IS YOUR CAR OUT OF CAPPED PRICE SERVICING, OR WOULD YOU JUST LIKE THE OPTION OF A REGULAR SET PRICE?
Northpoint Fleurieu offer Set Price Service servicing options to keep you on the move!
A regular servicing schedule will help to ensure the maximum performance, economy and longevity from your car. From as little as $99 (4 & 6 cylinder models), Northpoint has factory trained technicians using specialised factory diagnostics machines to ensure we can fix your car right, first time, every time.
What is Northpoint Set Price Servicing?
Northpoint Set Price Service is a program designed to continue the concept of Capped Price servicing once your manufacturers Capped Price program finishes, giving you the peace of mind of knowing your future servicing costs in advance.
Top ten reasons to use the Northpoint Set Price Servicing program:
Inflation proof service pricing.
A regular servicing schedule will help to ensure the maximum performance, economy and longevity from your car.
Manufacturer trained technicians.
While you wait Customer lounge with Complimentary tea and coffee, Wi-Fi, Magazines, Newspapers, TV and kids play area.
Reduced service costs.
Speed and efficiency.
Specialist Toyota, Mitsubishi and Hyundai diagnostic equipment.
Model by model knowledge to fix problems first time, every time.
Proud Local family business with over 132 years of industry experience.
Protect your vehicles resale value with regular servicing.
What is included in my Northpoint Set Price Service?
OIL & FLUIDS

Check and replace oil filter
Replace/top-up up to 5 litres of Caltex Havoline oil
Check coolant level and condition
Check wiper blades and washer operation, top up fluid level
Check and report on visible fluid leaks
Check and report on brake pads and rotor condition
Check and report on brake and clutch fluid condition
*Drum brakes - extra charge if applicable

TYRES

Check and report on tyre condition
Check for safe operation of all suspension and steering components - visible
Check and report on all driveline components for safety and security - visible

COOLING & EXHAUST

Check all cooling system hoses for condition
Check radiator for condition and air flow restriction
Check exhaust system for damage and correct fitment

OTHER SERVICE ITEMS

Inspection report
Check battery clamp, terminals for security and corrosion
Check all external light operation and light fitting quality
Check horn operation
Check speedometer and odometer for correct operation
Check air conditioning system performance
Check accessory drive belts for condition - visible
Road rest and check for any abnormal noises or vibrations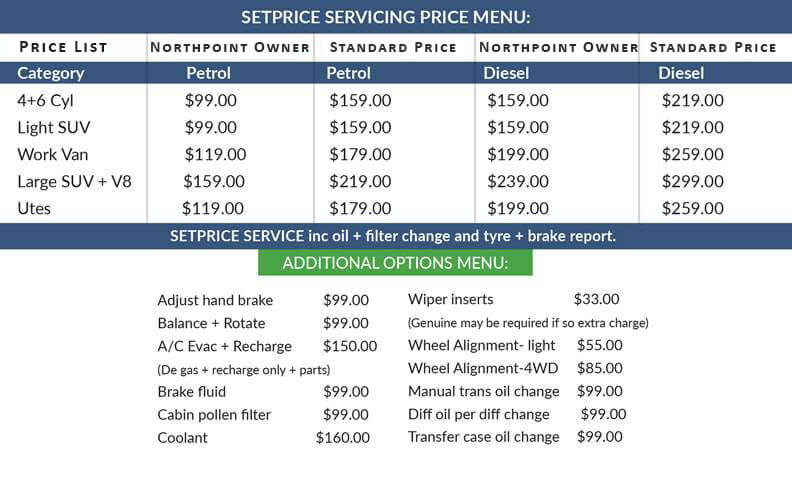 Sound like a plan? Ask our team today for more information or book now
Terms and Conditions:
A Northpoint Owner means a customer whom has purchased their used vehicle from Northpoint Fleurieu or the Mcilroy Auto Group from 1/12/2016. A non Northpoint Owner means any used vehicles not purchased from Northpoint Fleurieu or purchased before 1/12/2016. Pricing does not include adjustments, additional filters, fully synthetic oil. Parts used are non genuine. Bookings essential. These are NOT log book services, exclude vehicles covered under manufacturer CPS programs and not be used in conjunction with any other offer. Pricing inc GST.
Please Note: Northpoint Fleurieu also implies vehicles purchased from the previous owners - The Mcilroy Auto Group